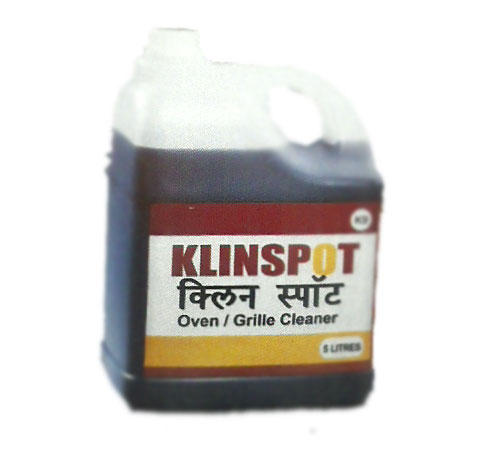 Oven / Grille Cleaner
Klinspot is a powerful caustic based oven / grille cleaner and degreaser. It removes all baked on deposits leaving a clean, grease free surface.
DIRECTIONS TO USE
For use on ovens, grille and other surfaces for tough grease and carbon deposit removal. Use neat. Apply through a spray bottle, at least 6 inches away from the surface. Wear gloves.

Cold Oven Application – spray evenly over the area to be cleaned. Leave for 10 – 5 minutes and then clean with a scouring pad and rinse with water
CAUTION
Do not use on aluminum, alloys, paintwork or galvanized surfaces.
Klinspot is highly alkaline. Use with care. Protective gloves should be worn to avoid contact with skin. In case of contact with eyes and skin, rinse immediately with plenty of water and seek medical advice.
Do not use on surfaces above 80o C.
Pack size : 5 litres
For external use only
Nature : HIGHLY ALKALINE